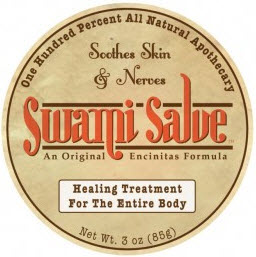 Swami Salve is the inspired creation of Anthony Chadwell, a holistic health practitioner who has been in the natural health field for the last 14 years. With a desire to enhance health and well-being for himself and his clients, Anthony began working on Swami Salve as a simple and cost effective way to compliment every therapy.
"The idea behind Swami Salve is to help relax the central nervous system and at the same time benefit the skin. My clients have found it hugely beneficial for a wide range of treatments from a powerful facial cream, to eczema to body aches and pains" says Tony Chadwell.
Swami Salve is a unique blend of beneficial butters and oils infused with Physalis (pronounced Silly-Us) extract, and Essential Oils of Eucalyptus, Peppermint and Juniper Berry. Swami Salve delivers fast relief to rough dry skin, and soothes aching sore muscles at the same time. Swami Salve is a 100% natural apothecary and is made in the U.S.A. with the highest quality ingredients available.
Swami Salve promotes healing of dry, chapped skin, relieves itching, creates a moisture barrier for the skin, reduces fine lines and wrinkles, and improves texture and feel of skin. The Physalis delivers powerful influences on the skin, while the essential oils effect circulation, mental clarity and a sense of relaxation.
Swami Salve gets rave reviews from users like this one:
"Skin is our largest, thinnest organ and highly permeable so everything we rub on it ends up in our bloodstream. With Swami Salve, I know everything is natural … no petrochemicals. I have noticed a huge improvement on my face since using it. I Love it!" – Barbara Stoddard….. Encinitas


To find out more information, check out the reviews or to buy Swami Salve online, please click here.