With the TMJ we will include the joint, the capsule, and the disc. Also included, the hyoid bone and other adjacent structures, associated ligaments and muscles of mastication, along with the nerves that innervate the area.
The clinical portion will include the 3 major causes of a headache. We will also evaluate for "tension' and "vascular" type headaches and give specific protocols for each.
These will be fun, interesting, practical, and packed full of information so be prepared to learn!  The class sizes will be limited so book now to avoid disappointment.
Saturday September 16 and Sunday September 17, 2017  early bird pricing only $349.00.
To book and pay online, simply click the Add to Cart button below and then when the shopping cart has loaded, click the "Check Out with Paypal" button beneath the shopping cart. If you would like to register for this module and the module entitled, Bones of the Mouth (Intra-oral Work) and Common Digestive Issues, you can save $100.00 by registering for Both Advanced Modules (Total of 4 days) here.
If you have any questions, please call 760-846-2511.
Not sure if this is for you? View what previous students have to say about this Cranial Sacral Therapy Training Program…
About Anthony Chadwell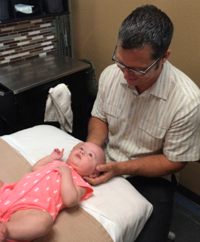 Tony Chadwell has a B.S. Degree in Injury Management from the University of Nevada, Las Vegas, with certifications in neuromuscular therapy, nutrition, and cranial sacral therapy. Anthony also graduated from the Canadian College of Osteopathy in Vancouver, B.C. with a D.O.M.P -Diploma in Osteopathic Manual Practice. Anthony is a Nationally Registered Craniosacral Therapist (RCST®), through the Biodynamic Craniosacral Therapy Association of North America (BCTA/NA).